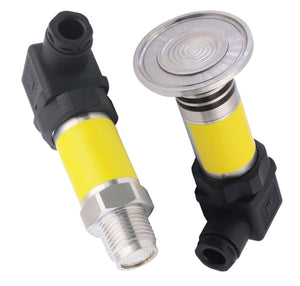 Craft Metrics
Sanitary Pressure Sensor
Regular price
$226.00
$0.00
This device requires a subscription to Craft Metrics. Don't forget to add a subscription to your cart if you do not already have one.
Place the Sanitary Pressure Sensor on a tank or manifold in your facility to get accurate dynamic pressure data, 24 hours a day. You can review the graphs to see exactly what's going on, improving product quality, saving energy, and avoiding costly downtime. 
Configure alert thresholds and get push notifications to your mobile device when the pressure falls outside of the desired range, allowing you to react quickly.
Get a real-time alert to your mobile device when:
Brite tank head pressure indicates optimal carbonation is complete
CO2 distribution manifold pressure drops, indicating tank requires refilling or replacement
Monitor sensitive pressures in your production:
Dial in optimal carbonation rates
Monitor product pressure during packaging
Specifications

316 Stainless diaphragm and wetted parts
Silicone oil filled
Available in 1/2" NPT or 1.5" Triclamp
Available in various pressure ranges
This is a built-to-order sensor. Please allow up to 1 month lead time.
---
More from this collection