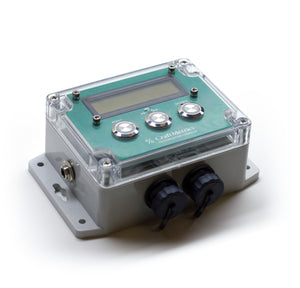 Craft Metrics
Pasteurization Computer - Temperature Control Enabled
Regular price
$432.00
$0.00
Please speak with our team before putting in an order for a temperature control enabled pasteurization computer. This is a built-to-order option.
Contact us at info@craftmetrics.ca
Our pasteurization computer measures pasteurization units (PU) in real time, automating the workflow for in-bottle pasteurization of apple cider or other craft beverages.
Load your pasteurizer
Press a button
Walk away
The buzzer will sound when it's time to remove the bottles
Easy and consistent pasteurization, every time.
How it works
The probe goes in a pilot bottle filled with water, and is sealed with a drilled rubber bung. The display shows the internal temperature, and begins accumulating PUs when it passes 60°C. As the temperature continues past 60°C, PUs accumulate more quickly according to the formula established by Del Vecchio et al.
Some cideries estimate PUs by using a thermometer and a timer. This introduces operator error, and doesn't correctly account for fluctuations in water temperature, product temperature, or less-than-full pasteurizer loads. The pasteurizer computer takes these variables into account, producing consistent results every time.
The PU set point is configurable, so you can choose how much pasteurization is right for your product.
The computer has a second port to accommodate an optional water temperature probe. This isn't required, but is a great way to monitor the water and know when your pasteurizer is ready for use.
If you have specific pasteurization requirements, we can customize this device to follow any pasteurization programme.
Craft Metrics Integration
The Pasteurization Computer can be integrated with a Craft Metrics subscription for long-term data logging, SMS alerts, and remote monitoring even when you're away from your cidery. With Craft Metrics you can look back to review your cycle times and temperatures for specific batches, improving QC and optimizing throughput.
Temperature Control
The Pasteurization Computer can control the bath temperature using the Water Temperature Probe. Connect the 5V output to a mechanical or solid state relay to turn your heater on or off. 
Included
1 Craft Metrics Pasteurization Computer
2 x 2m Temperature Probes
1 Drilled Rubber Bung for for bottles
1 Instructions Sheet
1 Waterproof connector for relay
Testimonials
We purchased the pasteurization computer from Craft Metrics thinking it could help us monitor our process more closely, but we didn't expect it to revolutionize our pasteurization! Not only does it increase efficiency, it makes bottling (especially solo) far more enjoyable. The app is great too; I can put a batch in for pasteurizing, grab a bite, all the while tracking how far along it is without having to be in the same room. I am so thrilled to have this little unit, I can't imagine going back to times without it!
- Lauren Wilson, Cider Maker 
Summerland Heritage Cider
We've literally halved our pasteurization time on our bottle and canned cider, and even for some non-alcoholic beverages we're pasteurizing as well. It's already paid for itself in the two months we've had it with labour savings. A big two thumbs up for this device.
- Chris Schmidt, Cider Maker 
Tod Creek Craft Cider