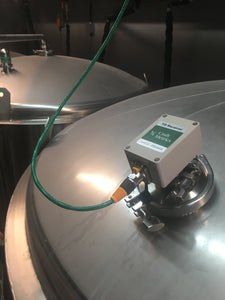 Craft Metrics
Tri-Clamp PoE Tilt Receiver
Regular price
$283.00
$0.00
This receiver connects directly to a stainless fermenter and places a food-grade antenna on the inside, providing perfect signal reception for Tilt Hydrometers. Data is stored and analyzed in the Craft Metrics cloud service, and is available to you anytime from anywhere.
This device requires a subscription to Craft Metrics. Don't forget to add a subscription to your cart if you do not already have one.

Features
304 Stainless Steel 

Tri-Clamp

Food-grade UHMW Antenna Probe

Powered by PoE (Power over Ethernet) so that a single cable provides data and power. No extension cords or electrical work required.
LED flashes color of Tilt as each signal is received
No tinkering required; focus on the brewing!
Requirements
Needs a 1.5" or 2.0" tri clamp port available in the headspace of the fermenter. You can also use a Tee fitting between the PRV (pressure release valve) or an adapter plate on a 4" or 6" hop port, for example. Craft Metrics can supply these fittings upon request.
PoE-capable Ethernet switch or injector. There are many options, but we can 

recommend the Netgear GS305P or GS308P as very cost-effective solutions that we've used for many deployments.
---
More from this collection